Trends
When you travel frequently, stay in numerous hotels, lodges and B&Bs, common themes begin to emerge. The travel and hospitality industry is filled with innovative people constantly looking for ways to distinguish their offering in the hopes of staying ahead of the curve. Lew is always on the look-out for these common themes. In this trends section, he notes the emerging, the dated, the brilliant, and also potential blind spots.
'East Africa was long seen by British, North American and European travellers as recognisably the prime safari destination. In recent years, the countries offering the gorilla experience have come into play in a big way too.'
– LEW ROOD
2014 Trends – Food with Meaning
With the sheer volume of foreign visitors, both first-time and repeat, the vast majority pass through London at some stage of their travels, and the city (and indeed other parts of Britain) are leading the way internationally in trends as they affect the culinary world.
Our local hotels, lodges, restaurants, cafés and others hosting those here on leisure or business travel, might want to be aware that whilst everyone appreciates regional and local offerings and style, one can apply current trends to lift our own ways, which many have started doing. It is also interesting, and indeed necessary, to plug in to the traveller's expectation, which obviously extends beyond just food and beverage and into other areas
If the prospect of another pop-up food vendor, craft beer, artisanal produce or speciality coffee supplier is a trifle confusing, take heart and look at Mike Palmer's useful website, www.lostincatering.com, for an insight into who is consuming what, when and how they are doing it, and what's hot and what's not in 2014!
Palmer comments on menu trends in the UK, including that chicken is back and big in every form, and interestingly enough for South Africans, Nando's is seen in the UK as a 'leader in its field', when of course that was all devised here in South Africa originally and as we know, chicken is a 'staple' meat on the African continent. In London it's from take out to eat in at some of the trendiest venues in areas now very fashionable such as Shoreditch and elsewhere supplementing their grill house offerings, the wood-fired rotisserie chicken in there with all the cuts of beef.  Then too, popular foods such as pizzas too, see more emphasis on the story behind the dough, artisan ingredients and small menus. Amongst the interesting trends (and there are many), real Spanish cuisine makes a comeback so it's no longer good enough to call any and everything 'tapas' and be sure to know your sherry, as it's part of the revival.
On the drinks side, craft beer is still "trending", predictably London has moved away from the 'Americanisation' of coffee, cups are getting smaller, coffee is becoming more specialised and roastery cafés are making people more aware of the importance of a fresh product. Interestingly Australasia is seen as the new 'leader' in this regard. Micro distilleries producing local spirits are more and more sought after, and here in South Africa our very own Inverroche Distillery at Still Bay (www.inverroche.co.za) is a fine example of this trend.
Restaurant trends are numerous and include the fact that the concept of 'personal space' is changing as the British get more and more used to the feeling of being European! Fine dining with formal settings are still there, but in comes counter-dining across the spectrum from quick-casual to Michelin star restaurants along with huge share tables and cuisine to match. High streets cluttered with chains have opened up opportunities for street food, pop-ups and food trucks. A continuing trend in 2014 is that "food with meaning" is taking choice beyond price, status and materialism.
A prime local example is Cape Town's Oranjezicht City Farm, a non profit project celebrating local food, culture and community,  who's vision is that we can bring about change every day through what we choose to buy and cook.  To that end, they have established a working farm within the inner Cape Town city, involving neighbouring residents and the fresh, organic produce is available for sale at their weekly market, which, along with volunteers and sponsors, sustains the project.
Written by Lew Rood on 18.02.2014
The Significance of the Spa
Whilst it is generally recognised that Africa's properties and resorts are ultimately not the world's sought after spa destinations, and apart from stand-alone spas in the cities, those attached to hotels, lodges and other hospitality venues are often an add-on facility rather than the major feature (and here I speak of Southern Africa essentially so this is not an all-inclusive statement or indictment on Indian Ocean Island and Coastal properties).
Asia, and other areas of the 'old world', have long refined the original wellness resort into sophisticated spa and health facilities sought after by leisure and corporate travellers. Where there is relevance in Southern Africa is the professed in-depth environmental benefit and work done by our game lodges and camps, whether by independent properties or by larger hospitality groups. A great deal is indeed achieved by following green and eco principles in this arena, which is admired around the world. The tireless tasks faced by individuals and groups in conservation and community upliftment, often admirably assisted and aided by the voluntary donations of guests to the region, are inspiring and worthy or recognition.
However, as a definitive expert on the subject, Lyn Middlehurst, Editor/Publisher of 'The Gallivanter's Guide', read by the world's top travellers in 42 countries since 1991 and described as 'setting the benchmark for high-end travellers', attests in her well read and greatly admired Guide to Chemical-Free Spas, there are a few questions to be asked. Lyn argues that the majority of hotels and resorts are built by owners (and I quote) – who don't have the foresight to bring in a dedicated spa consultant or management company on board at an early enough stage to affect the spa's design.
Further, she feel that in her experience the spa is often an afterthought which means (and here she is admittedly using the reference more of hotels than lodges) that it invariably ends up in the basement, harldy inspiring or uplifting places. She says too that in contrast, when the spa consultant is brought in early enough, the results speak for themselves. Most General Managers, better versed in food and beverage and what the restaurant should constitute, will confess to knowing next to nothing about spas, and are happy to call in an 'expert' and hand over the entire responsibility.
There are many facets to be considered, but Lyn Middlehurst, whose guide is essential reading, makes a clear case for chemical-free products. Not just a 'smoke-screen' for those who profess their offerings are made of 'natural ingredients', and one must therefore question suppliers closely in this regard, but which holistically are part of the process already being undertaken by owners and operators in other fields of their business model, to save Africa and the planet for future generations to enjoy. There are already a range of brands which comply and again one must not be misled by the often used but also often misinterpreted 'organic' label. The guide says that great spa products, like great culinary ingredients, are not cheap; however if you don't want to create your own spa-range, ask one of the recognised skincare companies to customise a quality range for you.
Ranges used need not be indigenous as not every country makes chemical-free skincare, let alone good chemical-free skincare. Do obtain a copy of Lyn's guide if unsure on any aspect of what you already have or what you intend establishing. www.gallivantersguide.com
No spa products (as yet), but on your next visit to Cape Town, look out for new, ethically sound ranges of adult and baby products becoming available in the city.
Written by Lew Rood on 30.07.2013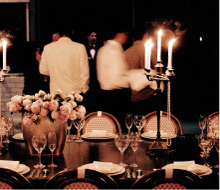 Lew's Blog
The travel industry is constantly changing and it's important to keep up with new developments. Keep in touch with Lew's experiences here.