Southern Africa's countries are unique, and each have a plethora of destinations that offer memorable experiences. From the quiet and severe beauty of deserts, to lush greenery and impressive wildlife, or even a dreamy experience with the creatures of the sea, the range is inexhaustible. And that's just the natural world. Culturally, southern Africa's people are also engaging and interesting. Lew can guide you through the ideal offering for your clients.
'Africa is dynamic. It will always have its ups and downs, but something somewhere will come up to capture the traveller's imagination.'
– LEW ROOD
Botswana
It's so flat it will surprise you, but it has one of the most incredible natural wonders of the world: the Okavango Delta, a place of magical beauty, impressive fauna and flora, and great plains that are flooded and transformed annually. It has a host of incredible safari options. Politically it's a peaceful country, and is ranked one of the least corrupt in Africa.
Lew's suggested best time to visit: January to March can be wet but is great for birding; the Delta water levels are very high. April and May are lovely, still very green and evenings cool but days warm, June to August can be very cold (freezing) at night but lovely crisp warm days and great game viewing. September is a superb month as it is warm to hot and water levels are low; October can be very dry and very hot. November/December the rain breaks again and is the start of the wet season.
Images courtesy of Chongwe Safaris. © All rights reserved
Mozambique
Known for its warm and relaxed attitude, it certainly is a pretty destination with none of the attendant airs and graces of other beach beauties. Here one can have one of the most incredible experiences of a lifetime: swimming with countless whale sharks and dolphins. Surfers love it for its waves, foodies for its fresh seafood, and the beaches are extremely generous. But it also offers an interesting capital city with a strong Portuguese flavour, interesting seafood market and some cool cafes if you're prepared to venture out.
Lew's suggested best time to visit: A tropical climate prevails, so travel is good all year round and temperatures seldom drop below 18 C. While the south is wettest from mid-January to mid-March, the northern parts are more temperate and quite pleasant, being closer to the equator. The best time overall to travel is from August to November. However, if travelling specifically to see the turtles nesting, try late November to late January, or see the humpback whales from July to October. To swim with mantas and whale sharks, November and December are the best months.
Images courtesy of Vamizi Island. © All rights reserved
Namibia
There's a reason this country is the beloved of some overcrowded European countries – the enormous space and clean, dry air of the desert is the kind that makes one throw one's arms up in the air and whoop with exhilaration. The night skies are some of the most pristine in the world, the colour, the light, all these things make it an incredible destination. It also offers wildlife, safaris, wild seas, good fishing, a Germanic capital city (with the expected cuisine), and women with remarkable traditional clothing.
Lew's suggested best time to visit: April, May and June are the best months to travel to Namibia, after the rainy season, this is the time of year to best appreciate the beauty of the country. July is coldest, August into September can be constantly windy and can be busy in tourist areas. Mid-September into October is another pleasant time to travel. From end October to January, Namibia is very dry and can be breathlessly hot. The rainy season extends from January into April. Best time to visit Etosha Pan is July to November.
Images courtesy of Wolwedans. © All rights reserved
South Africa
Lew's homeland, this is a country of amazing natural beauty and experiences and colourful, contentious politics. However, that does make it one of the most popular African countries because it has so much to offer. Our cities are vibrant, offering great restaurants, galleries, music and theatre, from mainstream offerings to indie events. In terms of nature, where to begin? The sultry-aired nature reserves of the northern provinces, with lions, rhinos, leopards, elephants and buffalo, to the soft KZN coastal reserves with rich land and sea life; the foodie attractions of the Western Cape winelands; the Drakensberg mountains…
Lew's suggested best time to visit: While South Africa has a good year round climate for travel (temperature seldom dropping below zero), generally, the more temperate months to travel are in the spring (September/October) and autumn (April/May). Winter (May to August) is cold and dry in the interior at night but is the best season for Safari travellers (game viewing is best). South Africa is generally a summer rainfall region (October to April), apart from the Cape Town area, which is rainy in winter. Coastal regions can be windy, particularly in summer and in the mornings.
Images courtesy of Tswalu, Le Quartier Francais, The Grand. © All rights reserved
Zambia
Landlocked it might be, but it has one of the greatest wonders of the world, Victoria Falls and the Zambezi River, a wide, lazy, powerful river that provides so much. Besides providing water to the nation, it is the source of great pleasure, from merely sitting at its banks (not too close) watching elephants, crocodiles and hippos, to numerous exciting water activities. It has a number of great hotels and game reserve, but its people are conservative in attitude, as recent press events attest to.
Lew's suggested best time to visit: May to October are good times to visit, although the best season in Zambia is July to September; while October can be extremely hot, the game viewing is prolific! If travelling between November and April, best to check availability as many properties close during this rainy season.
Images courtesy of Tongabezi. © All rights reserved
Zimbabwe
Politically, Zimbabwe is the black sheep of the southern African family, but the winds of change are sweeping through and tourism is beginning to pick up again as the government shifts. It is a beautiful country, with a lot to offer: Victoria Falls' rolling waters, Lake Kariba, many lovely game reserves, public and private, amazing scenery and people who remain remarkably positive despite their troubles. Service in this country is surprisingly good considering.
Lew's suggested best time to visit: Best months to visit are May to October, after the rainy season, when the bush thins out and game viewing is easier. It can be uncomfortably hot and humid from the end of October into March – during this time its greener, bird watching is best and rates are lowest! Note that the Victoria Falls are at their fullest after the rainy season (April/May) although the spray from the falls makes it quite difficult to see clearly – best time at the falls is from June to September.
Images courtesy of The Elephant Camp. © All rights reserved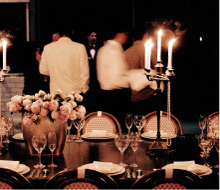 Lew's Blog
The travel industry is constantly changing and it's important to keep up with new developments. Keep in touch with Lew's experiences here.