Thanks to its history and economic strength, South Africa is probably the most famous of all its neighbours and southern cousins. However, all the countries Lew operates in – Botswana, Namibia, Mozambique, Lesotho, Swaziland, Zambia, Zimbabwe and his homeland South Africa – have something unique to offer. Lew has worked in this region for decades and understands it intimately, from the amazing natural resources that each offers to the travel infrastructure.
'Africa is dynamic. It will always have its ups and downs, but something somewhere will come up to capture the traveller's imagination.'
– LEW ROOD
Lew's two-plus decades in the safari industry have given him great insight into the southern African region and what it has to offer. From Namibia, with its spacey landscapes, to South Africa, with its denser terrain but rich wildlife, to beach-beauty Mozambique, Lew has travelled it all and has connections in every country. He's able to advise on setting up the perfect itinerary or find the ideal destination. And because he understands the terrain so well, he's also able to advise on how to give your business an advantage in the southern African context.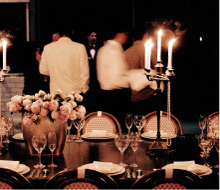 Lew's Blog
The travel industry is constantly changing and it's important to keep up with new developments. Keep in touch with Lew's experiences here.