There is no one-size-fits all when it comes to the travel industry, whether for an itinerary or a business. Lew can provide solutions that are uniquely suited to your businesses needs. If you're seeking the ultimate itinerary for a corporate group or a wedding party, he has access to a plethora of destinations and properties that will make it a once-in-a-lifetime memory. For business, Lew's thorough understanding of every aspect of the industry will allow him to come up with solutions that will enhance your offering.
'Many places keep the name, but the ownership or management changes and, while well-meaning, the recommendations you receive from colleagues and friends may be dated – I check it out thoroughly to make sure it's still relevant.'
– LEW ROOD
In providing solutions to clients, Lew is strict about making sure his information is current. His experience, network and affiliations give him access to such a wide range of options in terms of destinations, properties and experiences that he's able to tailor an itinerary or experience to perfectly suit the client. Businesses also benefit from this broad knowledge, as he's able to link and connect people, or provide innovative ideas for how their business can grow in the travel and service industry.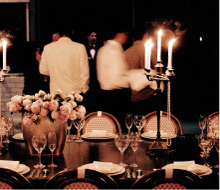 Lew's Blog
The travel industry is constantly changing and it's important to keep up with new developments. Keep in touch with Lew's experiences here.