Travel was a romance that started in Lew's childhood – Lawrence Greene, travel guides and programmes on radio, family trips across the country and an exotic relative's stories fuelled his interest. He started in the service industry when reservations were still confirmed by telex and fax and personal touch was everything. During his four-plus decades he's worked in every field in the service industry, including heading up the sales and marketing department for internationally recognised Singita safari lodges. Personal touch is still everything to Lew.
'Through my diverse jobs, I have had to learn the needs of my clients, handling the requirements of various nationalities with differing requirements and expectations.'
– LEW ROOD
Born in the pretty, popular university town of Stellenbosch, Lew knows South Africa backwards. His childhood travels could, in fact, be considered his fifth decade in the industry – he knew from then that he wanted to be in tourism. He began his career at the Johannesburg Hotel School, and worked in numerous prestigious hotels locally (he was handpicked by the Kerzner family) and internationally. He spent years in Amsterdam at The Amstel Hotel, and in London working for South African Tourism. His career has spanned hotels and hospitality, tourism, tour operating and sales, and exposed him to every kind of client and need. He's worked for the Kerzners and tour operator Springbok-Atlas, the well-respected CC Africa group and, during the last two decades, headed up Singita's sales and marketing department. During this time he travelled extensively and interacted with trade and media locally and abroad. Late last year, he opened his business consulting to local and international trade in the service industry.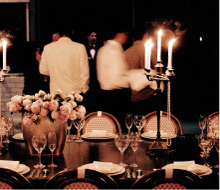 Lew's Blog
The travel industry is constantly changing and it's important to keep up with new developments. Keep in touch with Lew's experiences here.