Singita, SA Tourism, CC Africa (now and Beyond), Springbok-Atlas, these are just some of the prestigious companies Lew has worked for. And throughout these years he built incomparable relationships and networks in southern Africa, Europe, the UK and US, all of which are invaluable when it comes to consulting in the service industry. This network allows him to keep in touch with new developments, and also gives him access to connections, properties and information unavailable to most.
'From asking you to recommend the best eye doctor in South Africa for an upcoming client in case he had a problem while on safari, to where I might shop when passing through any city in Africa, your knowledge and network of information was more than impressive. It was Google standing up and Yahoo.maps all rolled into one person.'
– NINA WENNERSTEN and DAN SAPERSTEIN, Hippo Creek Safaris owners, USA
Besides working for some of travel and tourism's greatest names, Lew's network extends far beyond the connections he made in an official capacity. These are, of course, very important, but it's often the practical, specific information about an area that can help add the memorable touch to an itinerary. Lew has trusted 'informants' in all areas who will be able to tell him about developments in an area, or test something new if necessary. But his love of travel and experiencing food, wine, crafts and culture mean that he is constantly broadening these networks, exploring and seeking out experiences of quality. Many have benefitted greatly from Lew's ability to connect people and businesses. Also, his knowledge about southern Africa, its attractions and infrastructure or lack of it, is invaluable to those who're unable to experience this themselves.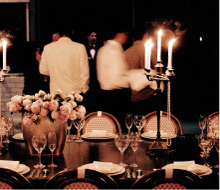 Lew's Blog
The travel industry is constantly changing and it's important to keep up with new developments. Keep in touch with Lew's experiences here.