In the seventies, Lew worked for SA Tourism. During this time, there weren't as many choices for tourists as are available today, nor was there the internet to help find new offerings. This meant a great deal of research needed to be done and so Lew developed huge, in-depth knowledge of South Africa. Years working with Conservation Corporation (which later became CC Africa), Springbok-Atlas and Singita expanded his experience to the safari industry and broader Africa, all of which fuelled his passion for this amazingly diverse continent.
'What I love about African hospitality is just how right we get it when it comes to owner-managed camps, B&Bs, lodges, guest houses, hotels, guest farms and all else. Africa done right can delight every time!'
– LEW ROOD
'Africa is an ever-changing scenario. It is dynamic, it will always have ups and downs, but somewhere, something will come up to capture the traveller's imagination,' believes Lew, whose experience in the safari industry has given him valuable insight into southern Africa and what each region offers. 'For instance,' he says, 'East Africa was long seen by British, North American and European travellers as the prime safari destination, while in recent years there's been a strong attraction to countries that are home to gorillas. Namibia is a very popular destination with Germans seeking wildlife and big open spaces, as it is with Italians and the French. Mozambique draws the South African fishing community, but is now emerging as a "beach destination" for foreign visitors.' Knowing and loving Africa so well – countries, regions and destinations – gives Lew an advantage in providing choices to clients.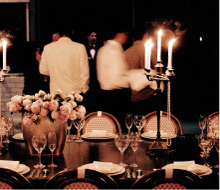 Lew's Blog
The travel industry is constantly changing and it's important to keep up with new developments. Keep in touch with Lew's experiences here.