What does Lew offer that no-one else can? A range of experience so broad that he's able to approach any project, whether advice on how to finesse a boutique hotel or tailor an itinerary for a group, with a great deal of practical knowledge. He has worked in hotels big and small, in the service industry, tour operating and sales, locally and internationally, and all of this in the context of southern Africa. Most particularly, he's been known for his gracious approach to work and life.
'Lew's thoughtful, caring, generous and elegant nature has been an asset and example to everyone who has been fortunate enough to come into contact with him.'
– LUKE BAILES, Singita's owner, South Africa
Over the past decades, many things have changed in the service industry, especially with the advent of the internet. And yet, some things stay the same. It takes someone with experience and a great understanding of people to know when things need to change, and what should stay the same. Having worked across so many fields and having been exposed to a great many people across many cultures and backgrounds makes Lew peerless in his understanding of the industry and the common denominators when it comes to setting standards. However, he also knows there is no such thing as a 'cookie-cutter' travel – satisfying a first-time traveller will be vastly different from handling the itinerary of well-heeled aficionados or a large corporate group. People's expectations and requirements can differ vastly, whether in the context of travel, food, arts and culture, or accommodation. This type of knowledge is invaluable, and can help you set your business apart.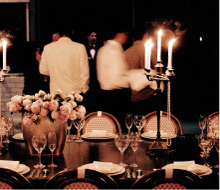 Lew's Blog
The travel industry is constantly changing and it's important to keep up with new developments. Keep in touch with Lew's experiences here.